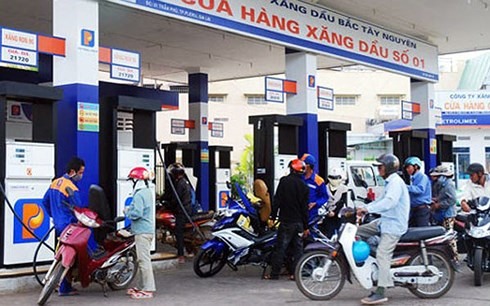 The global price of oil has increased from US$60 per barrel early this year to $70 now, and the uptrend is forecast to continue.— Photo vov.vn
Compiled by Thiên Lý
This was the second increase in retail fuel prices this year.
The global price of oil has increased from US$60 per barrel early this year to $70 now, and the uptrend is forecast to continue.
Nguyễn Bích Lâm, director of the General Statistics Office, said international organisations have forecast average crude prices in 2018 to range at $70-80 per barrel. So domestic petrol prices are projected to increase by 5-15 per cent and have an impact of 0.28-0.64 percentage points on consumer prices.
Vietnamese fuel prices are enormously impacted by global rates since the country imports 70 per cent of its fuel needs. Of course, as an exporter of crude, it also benefits when oil prices rise.
Fuel prices have a bearing on the cost of most other products in the basket of goods that makes up the consumer price index (CPI).
Two fuel price hikes in January contributed 0.11 percentage points to the CPI increase.
Besides the oil price hike, experts also worry about the impact of the finance ministry's proposal to increase the environment protection tax (EPT) on petroleum products on fuel prices, consumer prices and enterprises' competitiveness.
The ministry proposes to hike the EPT on gasoline from VNĐ3,000 per litre to VNĐ4,000 on fuel oil and lubricants from VNĐ900 to VNĐ2,000, and on grease from VNĐ900 to VNĐ3,000 per kilogramme.
But the taxes on aircraft fuel and kerosene are to be maintained at VNĐ3,000 and VNĐ300 per litre.
The tax is aimed at encouraging companies to make more "green" products, and covers, besides oil and petrol, also coal, hydro-chloro-fluoro-carbons (HCFC), plastic bags and chemical substances with restricted use such as herbicides, pesticides, disinfectants and preservatives.
Related authorities have justified the policy of hiking the EPT saying it is in line with the growth strategy and environmental situation, but it has been panned by both the public and economists.
Nguyễn Văn Tiu, chairman of the Hà Nội-based Tự Lực Petroleum Company No.1, said the additional VNĐ1,000 EPT on fuel would cause an increase in the prices of almost all goods in the market.
A Ministry of Justice official said the finance ministry should carefully consider the decision to double the EPT on fuel, affecting the interests of both enterprises and consumers.
According to the Ministry of Foreign Affairs, it is necessary to outline a roadmap for increasing the EPT on petroleum products, especially given that many essential goods already face the burden of fees and taxation.
It also stressed the need for the finance ministry to thoroughly evaluate all the likely socio-economic impacts of increasing the EPT on fuel.
The Việt Nam Chamber of Commerce and Industry agreed, saying that the retail price of E5 petrol is now VNĐ18,932 per litre after imposing many taxes and fees like import tax, special consumer tax, value added tax and contribution to the petroleum price stabilisation fund.
Analysts said the inflation target set for this year and approved by the National Assembly is 4 per cent but prices rose by 2.82 per cent in just the first quarter.
Clearly, the Government needs to get its act right if it wants to achieve the inflation target.
Banks find it hard to sell mortgaged assets
On March 27 the Việt Nam Asset Management Company (VAMC) announced plans to auction off the Sài Gòn One Tower, the first ever mortgaged asset it had seized, with a reserve price of VNĐ6.1 trillion (US$267 million).
The tower had been seized after Saigon One Tower JSC, its developer, had failed to repay its loan of VNĐ7 trillion (US$308 million) to Maritime Bank and Dong A Bank and then the VAMC.
The main shareholders of Saigon One Tower JSC had been M&C (49 per cent), Saigontourist (30 per cent), Đông Á Bank (6 per cent), Đông Á Securities (10 per cent) and Phú Nhuận Jewelry (5 per cent), though the latter three later sold their stakes.
Market observers had predicted that the auction would not be easy to pull off, one of the reasons being its huge value.
They said it is especially hard for investors to raise over VNĐ6 trillion ($264.32 million) at this time when banks are tightening credit to the property sector.
The successful bidder would then have to raise another large sum of money to complete the tower and put it to use since it has started to deteriorate somewhat.
But a more important reason possibly for VAMC's auction efforts to come unstuck is that many investors seem uninterested in buying mortgaged assets.
This has proved to be the case in several other such auctions, which have proven almost always unsuccessful.
Late last year Agribank AMC, an asset management company owned by Agribank, thrice put up for auction the V-Ikon office tower which it had seized from Việt Thuận Thành Company.
But none of them proved successful in spite of the fact that Agribank AMC had to reduce the price by 20 per cent to VNĐ299.05 billion for the third auction.
Last December the Sài Gòn Thương Tín Joint Stock Commercial Bank (Sacombank) also had to organise three auctions for a 923-hectare plot of land in Long An Province's Đức Hòa Industrial Park.
Though it finally succeeded, it had to cut the starting price from VNĐ10 trillion to around VNĐ9 trillion at the third auction.
Banks' bad debt ratios have been steadily declining and many of them remain determined to reduce them sharply this year so that they can cut the bad debt provisions, which are having an effect on their liquidity and profits.
They have identified the sale of mortgaged assets as the best way to do this.
The VAMC hopes to recover bad debts worth VNĐ24.89 trillion this year.
So, since the beginning of this year, the company has announced a series of seizures of mortgaged assets and their auction.
Market observers also said the VAMC and lenders are unable to sell the assets because their asking price is generally too high.
The question is why?
In spite of the fact that the National Assembly's Resolution 42 provides incentives to encourage bad debt trade in the form of allowing sales of mortgaged assets at lower than their book value, the VAMC and banks remain hesitant about doing so.
This is because if they want to offer them at less than book value, it must be approved by an independent price appraisal agency, a process that takes time and money.
Moreover, the bankers are also afraid of being blamed for recovering less than the amount due just because they sold an asset cheap. — VNS
Nguồn: vietnamnews.vn